home
Crusader Quilt Rack
---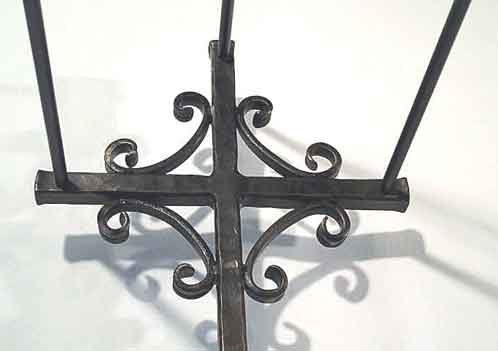 (click to enlarge)
Job: Interior Decor Commission

Date: December 2001

Overview: Created for a client with a strong interest in medieval history, this quilt rack is loosely inspired by the gothic ironwork of the middle ages. It is hand-forged of 3/4 inch square stock (hammered to provide texture), 3/8 cold-rolled round stock (to provide clean rungs) and the "C" scrolls are forged from 1/2 inch by 1/4 inch bar. The rungs are attached using mortise and tenon rather than welding in order to offer aesthetic value. The bottom stringer features a reverse rope twist and swaged collar – two nice examples of traditional blacksmithing techniques.

The entire piece is then given an aged brown patina and hot coated with a proprietary beeswax/boiled linseed oil mixture to both prevent oxidization and to add depth to the overall finish of the piece.
back