home
a b o u t u s
---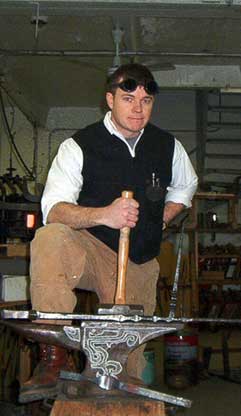 Gilgamesh Forge, a Smithy for the Twenty-First Century. The man making all that fire and racket is Steve Shepherd, professional blacksmith, amateur fry cook and all-around good guy.

A while ago, while working in Washington DC, Steve decided to trade in his white collar and briefcase for an anvil and the occasional burnt finger. Taking a major detour from a career in government relations and international trade wrangling, Steve decided to pursue that which made him happy -- the heating, beating and working of steel. Thusly, Gilgamesh Forge was born. Why Gilgamesh? Well, let's just say that it came from a college nickname bestowed by a particularly well-read friend, and Steve felt that it also had a little "dawn of mankind" vibe to it. Sure. Whatever. For better or worse, the name hath stucketh. Now located in the original Iron City, Pittsburgh, PA, Gilgamesh Forge is proudly continuing to pound, beat, hammer and coax good work from good steel.
We endeavor to create original work that thrives within its intended environment. We are well versed in most architectural styles, and strongly believe that the installation of hand-forged ironwork in a home or place of business communicates a sense of aesthetic value and attention to detail that cannot be achieved through the use of standard cookie cutter products. Let us provide you with the beauty and permanence that hand-wrought metal elements can bring. We are happy to work with your designs, or provide our own based on your architectural and decorative scheme. Drop us a line, as our hammers are always hungry.

Forge production is by no means limited to the items in this website, and we thrive on commissioned work. If you can envision it, we can build it (unless of course you need a nuclear submarine or space shuttle or something -- we might be able to make it, but it probably wouldn't work at all, and would most likely be very dangerous).